Belmont Landscape Design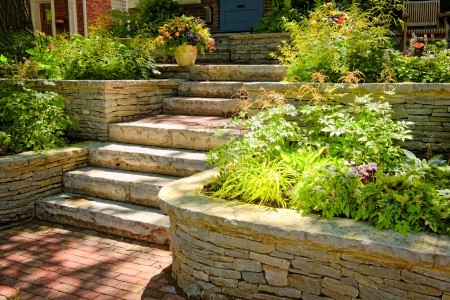 Skyline Landscapes Inc is a top quality Belmont lawn Maintenance Company that pays special attention to every detail, which makes the difference between an average landscape and a spectacular landscape. From mowing the lawn on a weekly basis to pruning, aerating, over seeding, and leaf removal, our landscaping company is a full service maintenance company that keeps landscapes looking well manicured throughout the year. No matter the size of the property, we can provide top quality lawn maintenance.
Over the past 30 years, we have grown to understand the needs of our clients. Some of them come to us for hardscapes such as retaining walls while others come for lawn fertilization and yard maintenance. It all depends on your needs. We can build and maintain whatever it is you're looking for.
Maintaining your outdoors requires a special person. If you're too busy or it's hard for you to take care of, you can always trust that we can do it for you as we have made landscaping our focus.
Belmont Landscaping
Part of being a dependable landscape design company, in Belmont, means that we communicate with our customers. Your needs are how we have stayed successful for the past 30 years. We also care about our customers as we offer them the following as a thank you:
Expertise
Professionalism
Promptness
Reliability
Our reputation is built on the hard work that we have served our community with. Homeowners want the job done right the first time around and that's exactly what they get when hiring our landscapers. We'll do the work quickly and efficiently with a promise to love it when completed.
Belmont Lawn Care & Maintenance
Whenever it comes to the outdoors, some of us ignore the design aspect making it look just like any other lawn on the block – boring! But Skyline Landscapes Inc offers lawn care & maintenance options that can make your outdoors look incredible as we can take care of and maintain:
Fire pits
Stone patios
Water fountains
Stone walkways
There are a lot of items included in your backyard that we take care of. Noting is too big or small enough for our landscapers. Call today and by tomorrow you'll see the value of your exterior while spending more time out in it.
If there is one thing that our Belmont landscape design company takes pride in its standing next to each project that we do. We have built a name for ourselves over the years and are proud of whom we are. You are always going to be #1 when you come to us no matter what your lawn care needs are.
Recent Landscaping Articles...
The Perfect Landscaping Project For Fall

When the weather turns cooler here in South San Francisco, and you find yourself looking for ways to enhance your landscaping, now is the time to think about hardscapes. With so many exciting options […]

Do You Need To Hire A Professional For Lawn Fertilization Services?

As a homeowner, one your most important and difficult maintenance tasks is taking care of your lawn. Between weed control, insect control, season clean-ups, and more, there's always plenty that needs […]

What You Should Know About Seasonal Lawn Care

Redwood City Landscapers often offer seasonal lawn care as opposed to regular weekly lawn care. It can be hard to find a good yard person to clean up the landscape when there are tons of leaves and […]
Call today for lawn care maintenance or landscape design for your San Mateo County home.