Woodside Landscaping Company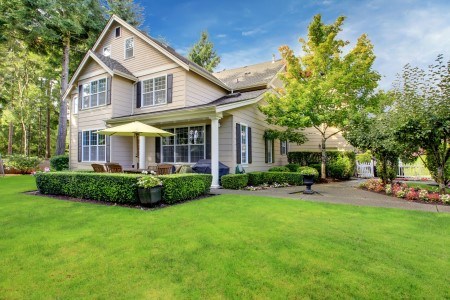 One of the key elements of creating the perfect look for your home is finding the ideal team to work with for your Woodside landscaping company service needs. No matter what color you paint the exterior of your home, or what type of holiday decor you put up, the only thing that will get noticed if you don't take care of it is shoddy landscaping. When you partner up with Skyline Landscapes Inc you can feel confident that you are going to get the quality customer service and workmanship you deserve – as well as the ultimate in final results.
This is not the type of work you can take care of your own or entrust a less than reputable company to work with. We have always prided ourselves on being there for every client for every job, no matter how big or small. Now, we look forward to working with you and demonstrating to you in person how we earned the flawless reputation we have. Contact us today to find out more about what we can do for you.
Woodside Landscaping
Taking care of your lawn is something that is going to need to be done, no matter what. The difference between a stunning looking yard, and one that doesn't look so great, is the type of care that goes into it. We are here for you to help from beginning and every step along the way; from establishment to care and maintenance, including incorporating hardscapes. At Skyline Landscapes Inc we look forward to showing you the choices you have available, as well as helping you make important decisions about your design layout.
Woodside Lawn Care & Maintenance
There is a great deal more that goes into creating the ideal yard; one that is sure to be the envy of the neighborhood; care and maintenance is what really makes the difference. Who you choose to address your landscaping service needs is what will be the difference between and ordinary lawn and an extraordinary one. Getting your yard looking the way you want is one thing, but it is quite another to be able to invest the work needed to keep it looking that way.
Rely on the pros who have the experience, training and skills required to get the job done. For all of your Woodside landscaping company service needs, you can count on the Skyline Landscapes Inc team to get the work done. We look forward to working with you in order to create the look you thought you could only dream of, and help to maintain it.
Recent Landscaping Articles...
The Perfect Landscaping Project For Fall

When the weather turns cooler here in South San Francisco, and you find yourself looking for ways to enhance your landscaping, now is the time to think about hardscapes. With so many exciting options […]

Do You Need To Hire A Professional For Lawn Fertilization Services?

As a homeowner, one your most important and difficult maintenance tasks is taking care of your lawn. Between weed control, insect control, season clean-ups, and more, there's always plenty that needs […]

What You Should Know About Seasonal Lawn Care

Redwood City Landscapers often offer seasonal lawn care as opposed to regular weekly lawn care. It can be hard to find a good yard person to clean up the landscape when there are tons of leaves and […]
Call today for lawn care maintenance or landscape design for your San Mateo County home.