Do You Need To Hire A Professional For Lawn Fertilization Services?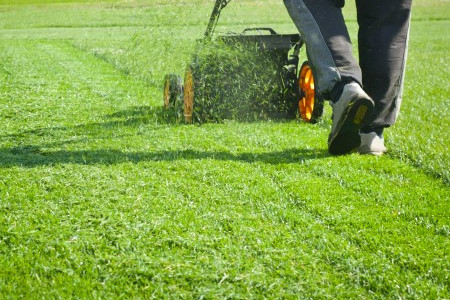 As a homeowner, one your most important and difficult maintenance tasks is taking care of your lawn. Between weed control, insect control, season clean-ups, and more, there's always plenty that needs to be done. At Skyline Landscapes Inc, our San Mateo landscapers can provide high-quality landscape and lawn maintenance services to help you keep these parts of your property in excellent shape all year long.
One landscape maintenance task that homeowners often attempt to take care of on their own is lawn fertilization. At first glance, lawn fertilization can seem like an easy enough task to perform without hiring a professional. However, the job is often more complicated than it initially seems, and it can be very difficult to get quality results without professional experience.
If you're deciding whether or not you should hire our professional landscapers for fertilization services, take these factors into consideration:
The Work Can Be More Difficult than It Seems
If you're considering fertilizing your home's lawn on your own, make sure that you realize everything that needs to go into this job. It can take three to five applications of fertilizer in order for the fertilization to be effective, and the applications need to be applied at strategic times throughout the year. You'll need to scatter store-bought fertilizer granules on your lawn using a spreader, and depending on the size of your property, that might take hours.
On the other hand, when you work with our San Mateo landscapers, we'll be able to handle every aspect of the job, and we'll be able to make sure that it's performed perfectly from start to finish. While it might cost more to hire a professional, you may need to purchase or rent equipment in order to do the job yourself. And, when you rely on us, you'll be getting much higher quality work.
The Quality of the Work
As is the case with any kind of work on your home, if you're looking for professional quality results, there's no replacement for hiring a professional for the job. Doing the work on your might be cost-effective, but there's a good chance that you'll end up needing to hire a professional to re-do the work after you've completed it. Of course, the contractor you hire could also perform sub-par work, but as long as you hire a trustworthy landscaper for your lawn fertilization services, they should be able to offer a solid guarantee before the work begins.
Our San Mateo landscaping contractors will always be able to offer the highest quality workmanship and most professional customer service, and we never consider a job complete until you're completely satisfied with the results.
Customized Services for Your Lawn
The timing, frequency, and amount of fertilization that lawns need vary significantly. Every lawn is different, and every lawn has completely different needs. Determining the needs of your lawn without professional experience can be very difficult—most likely, it will require hours of research, followed by months of trial and error.
Our professionals will be able to design lawn fertilization services that are totally customized for your San Mateo home's landscape. We'll work with you directly, and we'll make sure that our services are helping you reach the goals that you have for your property. We'll also be clear and up-front about the products and materials that we use on your lawn.
Our Expert Lawn Maintenance Contractors
At Skyline Landscapes Inc, our team of expert landscapers work hard to provide each of our clients with high-quality service at every job that we perform. We'll always be ready to do whatever it takes to help you keep your home's landscape in great shape, and we'll guarantee your complete satisfaction with our work. When you're looking for professional lawn fertilization services, you can always depend on us.
Call today for lawn care maintenance or landscape design for your San Mateo County home.