Redwood City Landscaping Company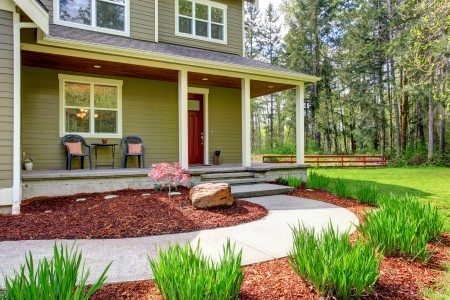 Many of us out there really don't put too much thought into our yards. But when they turn brown or flowers don't bloom in full as we want; we become frustrated. Skyline Landscapes Inc can help you with this and much more as we are the Redwood City landscaping company who specializes in different unique services to meet your needs.
Call us if you think that your yard could benefit from fertilizer treatment, irrigation control, weeding, mowing, pruning or other. We have the solution to make your yard green again while keeping your flowers and shrubbery safe.
We'll keep your trees healthier by planting and caring for too. Your yard can be the sanctuary that you have always needed in your life with the right people involved.
Redwood City Landscaping
When it comes to your lawn, how much time do you put into it? Are your plants and grass healthy and free from insect boring? Now you don't have to worry as much now that we are around to take care of those things and more. Skyline Landscapes Inc is the landscaping company you can trust.
The styles and planting schemes of outdoor gardens and mulch beds are practically endless. We will find the right style that matches your needs. We can help with your landscape design. Call as we will pant the right flowers and shrubbery that can live through all seasons.
There are many styles of yards and gardens for every climate condition as well as taste. Fountains and benches are known to be good starting areas to accommodate your landscaping. We have what it takes to make your outdoors stand out.
Redwood City Lawn Care & Maintenance
There's plenty that our lawn care and maintenance can do for you. For starters, we can meet your residential greenery needs by managing your property. What you don't know could kill your lawn. You'll find that we can enhance your outdoors by 100%.
We provide the following maintenance services for your outdoors:
Landscaping – Landscaping includes installations and modifications to your property. This may include pruning, tree trimming, leaf raking and leaf blowing.
Lawn Maintenance – Lawn maintenance is professional management for your lawn. This may include seasonal cleanup and care as well as insect control.
Weeding – Just pulling your weeds will not make them go away. They will re-populate very quickly. You need a solution to make them go away for good.
Going with our professional landscape design company in Redwood City as we have what it takes to make a difference to the look of your outdoors. An outside space that can be enjoyed by all is what we aim to achieve for your property.
Recent Landscaping Articles...
The Perfect Landscaping Project For Fall

When the weather turns cooler here in South San Francisco, and you find yourself looking for ways to enhance your landscaping, now is the time to think about hardscapes. With so many exciting options […]

Do You Need To Hire A Professional For Lawn Fertilization Services?

As a homeowner, one your most important and difficult maintenance tasks is taking care of your lawn. Between weed control, insect control, season clean-ups, and more, there's always plenty that needs […]

What You Should Know About Seasonal Lawn Care

Redwood City Landscapers often offer seasonal lawn care as opposed to regular weekly lawn care. It can be hard to find a good yard person to clean up the landscape when there are tons of leaves and […]
Call today for lawn care maintenance or landscape design for your San Mateo County home.