Landscaping Project In Menlo Park, CA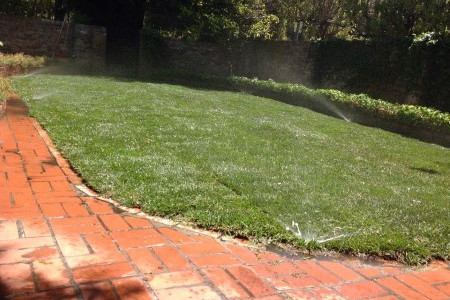 Check out the Menlo Park landscaping work done today. It may seem that the grass looks dead, some of it is. That is why we put fertilizer and mulch on it to rejuvenate it and have it grow into a beautiful green color.
A combination of the thresher, fertilizer, and mulch, was used in order to rejuvenate the grass. In the back of the house, the old grass was cultivated with mulch and leveled in order to install the new grass. We are construction, landscaping, maintenance, electricians... Plain and simple, we get the job done correctly and efficiently.
Take note if your grass is dying:
Till it
Fertilize it
Mulch it
Water it for 30-45 minutes
Do this for a week or two, then go and play on your beautiful green lawn.
Landscaping Project Gallery
Recent Landscaping Articles...
The Perfect Landscaping Project For Fall

When the weather turns cooler here in South San Francisco, and you find yourself looking for ways to enhance your landscaping, now is the time to think about hardscapes. With so many exciting options […]

Do You Need To Hire A Professional For Lawn Fertilization Services?

As a homeowner, one your most important and difficult maintenance tasks is taking care of your lawn. Between weed control, insect control, season clean-ups, and more, there's always plenty that needs […]

What You Should Know About Seasonal Lawn Care

Redwood City Landscapers often offer seasonal lawn care as opposed to regular weekly lawn care. It can be hard to find a good yard person to clean up the landscape when there are tons of leaves and […]
Call today for lawn care maintenance or landscape design for your San Mateo County home.