Menlo Park Landscaping Company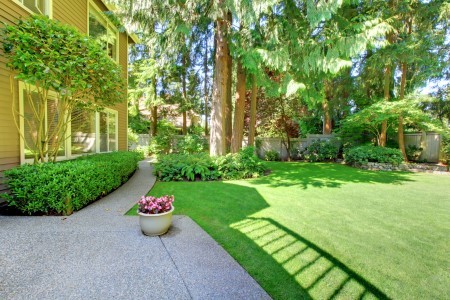 When you seek a Menlo Park landscaping company, come to Skyline Landscapes Inc. We are the professionals who can deliver depth to your yard through watering, fertilizing and maintenance services all uniquely designed for you.
You may find that professional lawn care is what you need in your life. Many people turn their backs on professional lawn care because they feel they can go about it on their own. If you do not have the right equipment and materials, you may end up ruining your lawn for good.
On the other hand; there are homeowners who opt to hire professional landscapers to create their outdoors. By hiring a professional; you will be able to see the changes made to your property instantly and on budget.
If you want your yard to become a haven in which you can enjoy better, all you have to do is call Skyline Landscapes Inc. We'll help create your outdoor masterpiece with your help and ideas.
Menlo Park Landscaping
Looking for a way to bring more attraction to your yard? There are lots of tricks that we know how to do and will get your yard the positive attention it needs. Call in our Menlo Park landscaping company for more details.
Intensity – We can easily change the one-dimensional look for your yard. We can achieve this through planting trees in groups.

Plants & Trees – Planting a small group of trees and shrubbery near the corners of the home can make the home seem wider than it actually is.
We incorporate these and other ideas into your yard because looking at a one-dimensional lawn is boring and does not offer that same feel that a multi-dimensional one will. Call us today to get our landscapers on the job.
Menlo Park Lawn Care & Maintenance
Let's face it, curb appeal matters to your yard. Whether you realize it or not, the look of your home is something that you work hard to achieve. Looks are important for those wanting to sell their homes as well. Lawn care and maintenance can change that for you as we are:
Professional
Designers
Preservation specialists
When you need something done right, you come to us. We will breathe life into your yard. With our care service and seasonal yard maintenance; your yard will look like you paid a million dollars for it. We guarantee you will love it.
Doing all the landscape work on your own can become tiring. It's not something that you should be doing out in the sun. We want you to relax and not have to deal with your lawn on that type of level. Your lawn deserves to be worked on by our Menlo Park landscaping company. No one does lawns better.
Recent Landscaping Articles...
The Perfect Landscaping Project For Fall

When the weather turns cooler here in South San Francisco, and you find yourself looking for ways to enhance your landscaping, now is the time to think about hardscapes. With so many exciting options […]

Do You Need To Hire A Professional For Lawn Fertilization Services?

As a homeowner, one your most important and difficult maintenance tasks is taking care of your lawn. Between weed control, insect control, season clean-ups, and more, there's always plenty that needs […]

What You Should Know About Seasonal Lawn Care

Redwood City Landscapers often offer seasonal lawn care as opposed to regular weekly lawn care. It can be hard to find a good yard person to clean up the landscape when there are tons of leaves and […]
Call today for lawn care maintenance or landscape design for your San Mateo County home.