Flagstone In San Mateo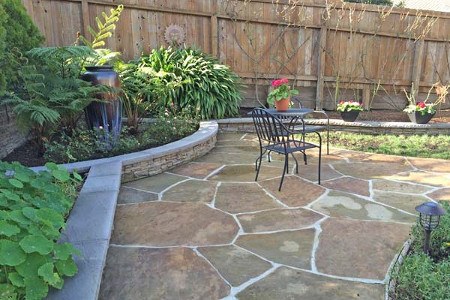 When you're looking to create a durable and attractive patio, walkways, or any other outdoor area that's going to see heavy foot traffic, flagstone is the perfect choice of material for the job. The natural lines, textures, edges, and colors of flagstone can create a distinctive appearance for any outdoor feature, and the professional San Mateo landscaping contractors at Skyline Landscapes Inc, we can provide you with a high quality flagstone design and installation.
Flagstone is a popular choice among homeowners in San Mateo because of its ability to withstand all sorts of weather conditions without being damaged, chipping, or fading. It also comes in a wide variety of colors, and it's versatile enough to be incorporated into most outdoor designs.
Our professionals look forward to discussing and working on your flagstone project with you.
Our Flagstone Services Include
Flagstone Patios
Flagstone Pathways
Flagstone Steps
Flagstone Seating Areas
Flagstone Borders, Walls, and Pillars
Flagstone Gardens
Custom Flagstone Hardscape Elements
Flagstone Patio Design and Installation
Flagstone is one of the best hardscape materials to choose for a patio installation, primarily because of its narrowly packed joints which allow water to permeate instead of running off. They have a natural and organic appearance which makes them a great addition to any landscape, and the San Mateo homeowners we work with love flagstone for its shape and its earthy colors of browns, reds, grays, and blues.
Flagstone is durable and naturally slip-resistant, so it can help you create a patio that you'll love and enjoy for years to come.
Some benefits of flagstone patios include:
Natural and attractive appearance
Durability
Permeable surface
Moss, grass, or hardy ground can be grown between the stones
Rich colors with natural variations.
Flagstone Walkways
Walkways are a great addition to landscapes and gardens, and a flagstone walkway can be an eye-catching enhancement to any outdoor space. Both its color and texture have a natural appearance, so flagstone is the perfect accent to any landscape or garden, and a flagstone walkway can make your San Mateo home's landscape feel more comfortable, inviting, and accessible. It's also a good choice for walkways because it's naturally slip-resistant.
Flagstone Color Choices
Flagstone originates from sedimentary stone, and it comes in a wide variety of colors depending on the part of the country that it's sourced from. Any type of natural stone has color variations, so no two pieces of flagstone will be the exact same color, but that's what makes it appealing to homeowners in San Mateo who are looking for a material with a natural appearance. Our professionals can help you choose which colors would be best for your home's landscape design when we're working with you on any flagstone project.
Recent Landscaping Articles...
The Perfect Landscaping Project For Fall

When the weather turns cooler here in South San Francisco, and you find yourself looking for ways to enhance your landscaping, now is the time to think about hardscapes. With so many exciting options […]

Do You Need To Hire A Professional For Lawn Fertilization Services?

As a homeowner, one your most important and difficult maintenance tasks is taking care of your lawn. Between weed control, insect control, season clean-ups, and more, there's always plenty that needs […]

What You Should Know About Seasonal Lawn Care

Redwood City Landscapers often offer seasonal lawn care as opposed to regular weekly lawn care. It can be hard to find a good yard person to clean up the landscape when there are tons of leaves and […]
Call today for lawn care maintenance or landscape design for your San Mateo County home.