The New Age Landscaping In San Mateo County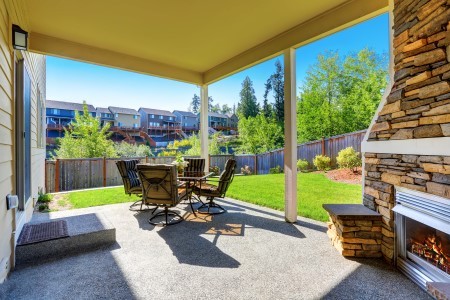 The term 'concrete landscaping' is pretty new since the word 'concrete' evokes an image of a rugged, dull and unattractive garden. But in the present days, this concrete landscaping has become indispensable and is utilized for driveways, patios and pathways.
To get a profound view of this concrete landscaping, incorporate the tips below, while designing your garden:
Utilizing concrete for designing paths and walkways
Your garden will look stunning when concrete is used for the paths and walkways. Don't be concerned about the size of your yard. Be it small or large, concrete is adaptable to go down well with its size.
Using concrete in garden add-ons
Concretes are immensely flexible. It can be used into a planter a patio. You can even use it as a material for the sundial in your landscape garden.
Using concrete in stone walls
Concrete is impeccable for stonewalls. Using it in the creation of stonewalls is in vogue nowadays. Walls serve as the frame of your house. They also hinder the unwanted entrances of pets and also the trespassers. A house encompassed by wall can prevent burglary.
Using concrete for unruly surface
Concrete landscaping keeps the soil in place. Apart from this functionality, concrete blocks in a wide range of textures and styles make a simple garden interesting.
Using concrete for décor
Concrete carries a number of utilities. This is the reason why it has become so popular today. It can be adapted to fit into any of your requirements. Concrete comes in innumerable forms like block, slab or brick adorning your garden beyond imagination.
Using concrete to create a border
You can go for sandbox-building by utilizing concrete borders. This may act as an enclosure for your kids' playground. It will also ameliorate the pool-viewing an unforgettable experience.
What are the other uses of concrete landscaping? The list goes on and on- concrete foundations, concrete floor slabs, concrete stamping and coloring and concrete flatwork. Concrete can even serve as the foundation for tee boxes, basketball courts, tree rings and gutter splashes.
Study the companies that are recognized for concrete landscaping. Some of the well known companies are Bayshore Concrete and Landscaping, Terraforce and Endless Borders.
Even a few years back one could never imagine that concrete landscaping could be so fashionable! Concrete has come a long way and brought a mammoth change in the appearance of gardens which have augmented like never
Call today for lawn care maintenance or landscape design for your San Mateo County home.