Desert Landscaping - Waterfalls And Swimming Pool Features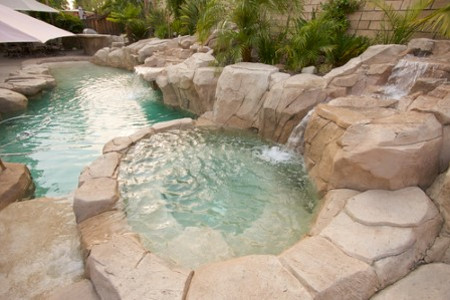 Your home landscaping design can be often overwhelming and challenging for most people.How would you feel about the perfect water feature in your back yard? If you're like most of us, a water feature is among the things that you are most interested in and would most like to have as part of your pool or back garden area.
A water feature in the desert area is best added by the experts who can tell you how to care for it and install it for you using experienced staff who have literally worked with hundreds of water features in desert design. Preventing a high level of evaporation, finding the best place for your feature in your desert landscaping and setting it up effectively to offer you and your guests the best and most effective placement is probably something that you're going to need some professional landscaping company advice with.
When it comes to a relaxing atmosphere, what is more friendly and more welcoming than the sound of a flowing waterfall or a gurgling pool in your back yard area? Several different varieties are available to you, from the waterfall to the fountain to the vast array of other choices that you can make.
Swim up bars are something that a lot of people have considered and a good desert landscaper can make it happen for you. They are a great way to offer your guests the best of all worlds. The desert is hot and its difficult at times to stay cooled down and still to get the creature comforts. Imagine not having to leave the water in order to get that long cold glass of lemonade or a soft drink while you're swimming. The pool party just got a lot more interesting when you add a swim up bar into the mixture so that your guests need not even leave the water for their drink.
Splash pads area another unique feature that you can add to your back yard in the desert. While many people believe that the desert isn't the right place for such a feature and that it's going to be ineffective for your desert landscaping, water features are highly useful and can be a wonderful inclusion in your landscaping in the desert and high desert areas. In fact, they may be actually easier to care for here than in other areas because the risk of freezing doesn't happen as often as it will in more northerly climates.
Water features can be a part of your desert landscaping project. Consult with an expert in desert landscaping to see what kind of features would be effective and doable in your area. Finding the right mixture of water and sand makes for the perfect back yard anywhere, but no where is that more true than in a desert landscaping scenario.
Article Source: http://EzineArticles.com/?expert=Christopher_D_Griffin
Call today for lawn care maintenance or landscape design for your San Mateo County home.