Flagstone Patio: 4 Tips To Choose The Best Site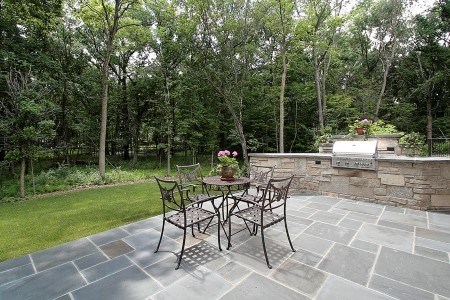 A flagstone patio can be placed almost anywhere outside your San Mateo home. However, there are places that are more ideal than others. Below are some tips that can help you in choosing the best site for your flagstone patio.
Choose a ground with an even surface: Flagstones are naturally occurring. Because of this, eliminating the variations in thickness is not reasonable. This presents a problem in coming up with an even surface for the patio. To make it easier for you to create that even surface, choose a place outside the house where the ground surface is already even. This should make planning significantly easier because you do not have to try each piece of flagstone in order to choose which one works best for a particular spot. All you need to do is select the slabs that are roughly of the same thickness and you can start from there.
Choose a location that is close to a drain: One of the main problems with flagstones is that they tend to keep the water because they do not absorb them. When rain pours, whatever water does not make it to the surrounding area of the patio stays on the patio surface until it dries up. This not only tends to make your patio slippery, but it also has a tendency to compromise the base supporting the flagstone. To prevent this from happening, place your patio near a water drain or install a water drain before laying out your flagstone structure. This should facilitate faster movement of the water away from the patio.
Select a place with stable subsoil: The surface on which the base of the flagstone patio needs to placed has to provide enough support for the flagstones so that they do not move around too much. Even though fillings can be placed to patch up the spaces, starting out on a solid surface is still much better. However, if this is not the case, then stacking up some gravel or sand might do the trick. Remember that the materials supporting the base will need to settle and this puts a considerable amount of pressure on the ground below. In some instances, it is possible to use cement. This particular method answers the problem of support and leveling at the same time. However, this might mean a considerable additional expense.
Ask for advice: If you are not sure on how to proceed with choosing the best place for a patio, it is always good to consult professional advice. There is nothing better than experience to handle questions about installation.
The best thing for you to do is to draw a sketch of the place where you want to setup your flagstone patio and then ask an experienced supplier on whether the location you chose is suitable for construction. Remember that it is possible to set up a patio almost anywhere. The advice you are looking for should tell you where the easiest place is to set up your flagstone patio.
Article Source: http://EzineArticles.com/?expert=Larry_Minton
Call today for lawn care maintenance or landscape design for your San Mateo County home.