Gazebos Are Perfect For Garden Gatherings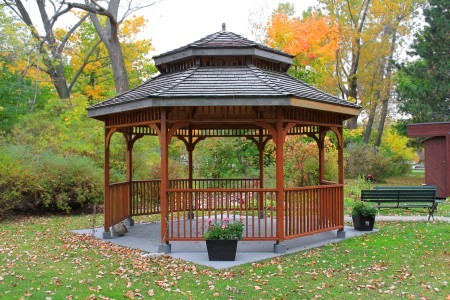 A gazebo is an excellent addition to the outdoor space of your San Mateo home. It could be used for a wide range of purposes from being a space where you can relax or an area where you can entertain friends and family. Nowadays, San Mateo homeowners who choose to have a gazebo built into their garden or backyard do so to have an area for gatherings, parties and other events.
Because San Mateo gazebos are usually set up in the garden, they can be a great place where you can hold a party or gathering. Your guests would be able to enjoy the natural surroundings and fresh air without having to endure the heat of the sun. If you schedule an outdoor party but it rains on the day that it would be held, you need not worry as your guests would properly be sheltered.
You could set up a small bar or buffet area in your gazebo and you would be able to make sure that you have everything in order for your outdoor gathering. With several tables and chairs, your guests would surely have a fun and exciting time. Also, because garden gazebos are quite easy to maintain and clean, it is the perfect area where you could bring in friends who drop by for a surprise visit without having to worry about having to clean it up or dress it up first to make it ready for accepting guests. As long as you have some comfortable outdoor furniture set up in it, you would be able to entertain your guests without much hassle.
If you are planning to host a gathering at your San Mateo home, make sure that you would be planning ahead of time. You might want to set up some decorations which would complement the theme of your party. Gazebos offer a lot of possibilities in the type of decor and furniture that you would be placing in them, giving you the chance to make sure that they would fit your taste, budget and purpose.
A lot of couples who are planning to have a garden wedding also prefer to have a wedding gazebo set up in a garden since they offer a sheltered and beautiful place where the ceremony can be held. They can be decorated according to the motif or theme of the wedding and allows the couple to be wed and their guests to have a comfortable and pleasurable time even during a hot day.
There are a lot of landscape companies which are offering a wide range of gazebos today. They vary in the type of material they are made of, their size and the structures that they come with. As you choose one, make sure that you would be thinking of what you would be using it for. If it would serve as an area for entertaining guests during gatherings, you might want to go for the larger ones as they would surely offer more space where you could move around and set up more furniture in. You might also want to consider getting a gazebo kit which you or a professional could easily build.
Article Source: http://EzineArticles.com/?expert=Khalid_Adams
Call today for lawn care maintenance or landscape design for your San Mateo County home.