Hardscaping Guide For Your Patio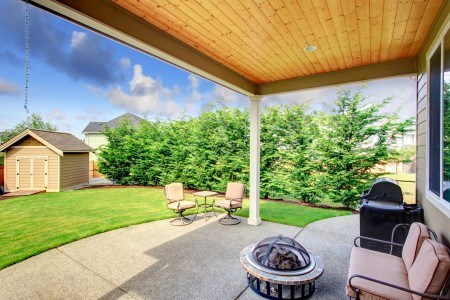 If you are trying to find a way to increase your family's enjoyment of your Redwood City home, you should consider ways in which you can make the most of your available outdoor spaces. One great idea is to construct a customized patio on your property. A patio will provide you with the perfect place to gather with your family in your backyard. It is also great for entertaining friends and guests.
When you decide to construct a patio, the first thing that you should do is hire a professional hardscaping and landscaping contractor. In Redwood City, the most highly skilled and experienced hardscaping contractors area at Skyline Landscapes Inc. Their design experts can help you with every aspect of this project. They have provided the following guide to common patio building materials to help you get this project started.
Flagstone Hardscaping Provides Natural Beauty
One of the most popular hardscaping materials to use for a patio is flagstone. These beautiful building materials have a natural elegance to them that is unsurpassed. They are available in a wide variety of colors including red, blue, and buff. Some regional varieties such as Arizona sandstone and Pennsylvania bluestone are extremely popular. At Skyline Landscapes Inc, their Redwood City hardscaping contractors can help you chose the flagstone materials that will work best for your aesthetic tastes and needs.
Clay Brick Hardscaping Provides Traditional Gravitas
Clay brick hardscaping is the time-tested and traditional patio building material. These materials have been around for an extremely long time for good reason. They are uniquely beautiful and uniform as well as highly durable and long-lasting. When you decide to construct your patio with clay bricks, your Redwood City home will have a certain Old World gravitas that no other hardscaping material can replicate.
Patio Paver Hardscaping Provides Endless Variety
If you truly want to have a customized and individually distinctive patio, you should consider using the ultimate hardscaping material, concrete pavers. Concrete pavers are manufactured in so many varieties there there truly is no limit to the design possibilities. These wonderful hardscaping materials can mimic natural stone or clay brick. They are available in nearly any shape, size, finish, or color.
With the help of the Redwood City hardscaping contractors at Skyline Landscapes Inc, you will be able to construct a paver patio that works specifically for you and your family. You are guaranteed to thoroughly enjoy the time that you each spend on your new patio and hardscaping features, now and in the future.
Call today for lawn care maintenance or landscape design for your San Mateo County home.