Landscaping Lights - The Right Garden Approach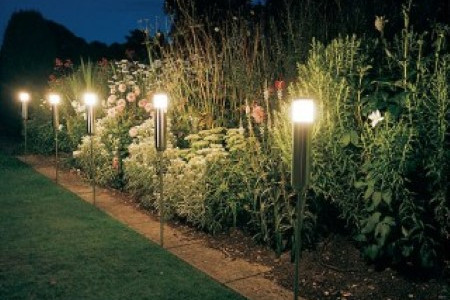 Landscaping project portray both the practical side in promoting an eco-friendly environment and the artistic way of appreciating the beauty of nature. An ideal home landscaping package is not just limited to expensive garden plants, advanced tools and equipments. It is even more enhanced with proper lighting for a more profound effect.
Basic Outdoor Lighting Types
If you want your garden to look more elegant and attract positive energies of beauty and charm, you need to know your basic options for outdoor lighting. Landscaping lights enhance the colors and ambience of you garden for that unique elegance during nighttime.
Here are the basic types of outdoor lighting that you can use in your landscaped home garden.
Malibu landscape lights. This is ideally used for walkway or pathway lighting. It usually glistens in a runaway effect. Malibu lights function immediately as soon as sunlight fades away.
Up-lighting lights. These lights enhance your home security against burglars. These lights are best placed on access points or entry areas of your residential landscape. They are also ideal on pool areas to discourage intruders.
Moonlighting. This is also referred as down-lighting. Moonlighting is used for security, safety and aesthetic functions.
Backlighting. This is also called silhouette lighting. This lighting option creates a glamorous nocturnal effect. It is even used for romantic ambience.
Landscape lighting options are very cool stuff you can always consider not only for adding more beauty to your surroundings. It is also a great security tool that safeguards your place against unnecessary access. You also need to match your landscaping style with the right lighting options. You also need to consider your budget for smarter moves at all times.
Article Source: www.iSnare.com
Call today for lawn care maintenance or landscape design for your San Mateo County home.