Lawn Care Is All About That Green Green Grass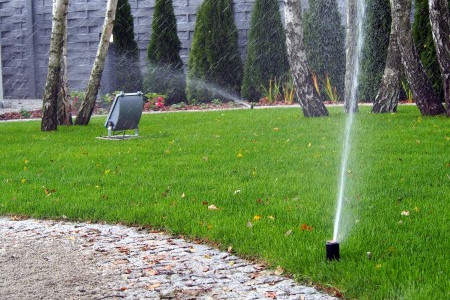 Lawn watering is something that is very basic when it comes to lawn care. If you are not watering the grass on a consistent basis then you might be wasting any other efforts you have been making.
Do you want this to happen to you? If you want to keep your lawn healthy then you have to keep watering it. Even though many types of grass are very hardy, there is no way where it can survive and look good without water.
Water Your Lawn With Care
Yet, when it comes to lawn watering, you should not also over-water your lawn. There is such a thing called drowning. You can also drown the grass shoots in your lawn if you water it too much. You should only water lawn with the right amount of water or else you are going to end up with a dead lawn.
If you think that lawn watering is simple then you may be right and you may be wrong. There are several factors to consider when you are lawn watering. First, you have to make sure that you have a good watering system in the first place.
You have to buy one of those very effective sprinklers and make sure that it works properly. If you want your lawn watering to be hassle free then you have to make sure that you get the right equipment for the job.
What Sort Of Grass Is It Anyway?
You have to understand the type of grass that makes up your lawn. You see, whilst all grasses need a certain amount of water and sunlight everyday some need additional help to look good. They may also need lawn fertilizer as part of the lawn care you give.
Understanding the type of grass that you have will determine the way you should be creating a lawn watering plan of action, incorporating the lawn treatments that are recommended for it. If you understand your grass and act accordingly, then lawn care should not be a problem at all.
Common Problems With Getting Lawn Watering Just Right
Why do a lot of people out there have a hard time with their lawn watering activities? First of all, people are so busy with their lives nowadays. In order to make ends meet, you might even have had to take on two jobs. Which, of course, means that you might have had to neglect time at home.
If you are having a hard time lawn watering then maybe you should hire a gardener to do your lawn care for you. Outsourcing is a very important aspect of daily life and it is one of the more important business models in the world today.
For example, if you had to take off three hours a week to care for your lawn, might it even be less expensive to hire someone to do it for you. It's all a calculation you might take into account.
Time To Get Outside Help With Your Lawn
If you want to have a healthy lawn then you might have to outsource the lawn watering to a gardener (or even a student, who could do the job just as well and be much less expensive). If you are having a hard time keeping your grass green then you could consider this option.
Call today for lawn care maintenance or landscape design for your San Mateo County home.